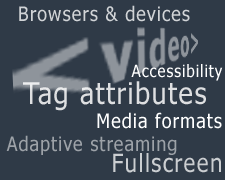 HTML5 for Video progresses all the time.  Not as quick as we hope for and audio is often left out of the equation, but there is progress nevertheless. LongTail Video has brought out a report on the current state of HTML5, and the interesting thing is that the report will be upgraded every time there is a new feature implemented.
In this way, you can always go back to the same report, being sure you have the latest state of affairs.  Therefore, you may want to bookmark this link:
http://www.longtailvideo.com/html5/ because they did a good job summarizing the results of their tests in an easy to read format.
They also opened a facebook page to run a discussion group on the subject which is moderated by experts in this field.  You might want to check that out as well:  http://www.facebook.com/longtailvideo