I only list products here which I truly believe to be top quality or super convenient.  Some are affiliate links here because  every little bit helps to keep me going producing good quality content. I'm sure you don't mind 😉
Updated on 01 October 2019
CloudBerry Explorer
I really love to use CloudBerry Explorer to manage my S3 Amazon files.  For Windows, this is the best application I have come across so far. It's versatile, efficient to use and it has all the whistles and bells you need. The interface is clear, it feels like you know it already when you open it the first time.  I actually started out with S3 Browser and although it isn't bad, CloudBerry does a better job.
Read all abou it here: https://www.cloudberrylab.com/explorer.aspx
Footprint Player™ for Joomla
Footprint Player, our own HTML5 player extension for Joomla to protect media and any file type against unauthorized use via AWS CloudFront. It ships with Video.js, the Open Source video & audio player sponsored by BrighCove.  It supports HLS, Mpeg-Dash, mp4, webm, ogv, aac, mp3, m4a, mutlilingual subtitles on audios and videos. On top of that, AWS KMS Key encryption of file segments is supported (most players limit this to premium licenses).
Read all about it here: https://www.footprintaddons.com/products/footprint-player-joomla
S3Media Stream™ for WordPress or Joomla
S3Media Stream™ empowers you to quickly and easily setup video and audio on your site. Whether you're a novice or an advanced media professional, S3Media Stream helps you stream video and audio with options beyond your imagination. The advantage of streaming is that visitors can jump anywhere in the media without waiting for download and it also adds a layer of protection against unauthorized use, thanks to expiring URLs (also called "signed URLs", with expire within a short period).
Simple and powerful, thanks to the easy-to-use Wizards combined with S3 Amazon and CloudFront. And you can make money in a variety of ways! If you have a membership site or want to show videos to a select public, this plugin is it!
Read all about it here: www.wp21century.com/
There is a Joomla version as well: www.footprintaddons.com
JW Player – Responsive HTML5 player
I absolutely find this the top video player to embed video and audio on the web. YouTube even bought it in the early days to use in their portal and that is how this player became an industry standard.  It is created by Jeroen Wijering from Longtail Video (renamed to JW Player) and more then 5 million users are happy with it. I use it as the underlying technology for the S3Media Stream for Joomla and WordPress. The list of things this player can do is endless.  It supports HSL adaptive streaming, MPEG-DASH, MP4, Webm, MP3, M4a, Vorbis, AAC.
Get a license here.
DreamHost Hosting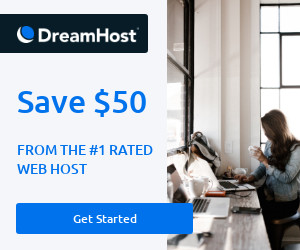 My dear old friend DreamHost. I'm using this hosting provider to test my websites for over 11 years now. It has its own panel which has much improved over the years. There was a period when I wasn't too happy with the speed of the server but is improved a lot as well (as far as shared hosting goes). They added support for CloudFlare and a host of other speed improving options.
Support is very good and it has a one-click install applications section including blockbusters like WordPress, Joomla, Drupal etc.
Miracle Tutorials gives you a onetime $50 discount on your first DreamHost account.
Read all about it here or click the image.
GreenGeeks Hosting

GreenGeek Hosting is the Green energy hosting service  in my toolbox. It is very much like DreamHost in features and performance, except that GreenGeeks has a CPanel, which is widely used all over the world, so when you learn how to work with this easy to manage panel, it may be useful when you ever decide to switch to a dedicated server. GreenGeeks boast a "300% powered by renewable energy",which sounds a bit strange since 100% is in principle all you have, but there you go. Renewable energy is important, so you may want to take this in consideration when you choose your hosting provider.
Read all about it here or click the image to order.
Siteground Hosting
Siteground is well known for its security measures, especially for WordPress, Joomla and Drupal. The support is very good and like GreenGeeks hosting, it has Cpanel and one click install applications. I moved a lot of sites to Siteground because they take measures to prevent hacking, even with older versions of Joomla. Two disadvantages in comparison with DreamHost and GreenGeeks though; they bump pricing up unexpectedly from time to time,  all websites are in the same folder, creating problems with individual firewalls using WordPress, which can be resolved but it is a little complex.
Read all about it here or click the image.
Royalty free music libraries
List of music libraries (no affiliate links here):
www.istockphoto.com/audio.php
www.soundrangers.com
www.stockmusic.net
www.stock20.com/commerce
www.musicalley.com
www.musicloops.com
www.podsafeaudio.com
blog.blogtalkradio.com/blogtalkradio/17-places-to-find-podsafe-music
www.partnersinrhyme.com
wiki.creativecommons.org/Content_Directories
www.royaltyfreemusic.com
https://pro.jamendo.com/en/