Some sound editors, like Audacity from SoundForge can reduce static noise, but the disadvantage is that it deforms the audio. Therefore, it is best to quelch static before it hits the sound card, so to speak.
The most common problem is the microphone (or headset) related to its surroundings.
If you are recording sound next to a whirling hard drive or noisy computer, you will produce an audio that appears to have a lot of static but it actually is primarily environmental sound.   It is important to make that distinction because static and environmental sound needs to be treated differently. So, the next question should be: "How do I reduce environmental sound?" and this will be discussed in the next post; Let's first tackle the static problem.
If you have overwhelming static, it can have 3 main causes, presuming that the equipment is not defect:
You did not push the jack far enough into the plug hole.  Do not force but gently push it further in..

The jack or plug is not properly connected. You perhaps may have plugged the mic jack into the wrong plughole. Check that and if it is difficult to read which plug hole is which, use a torch light to read the icons above the plug holes.

If none of the above, it probably has to do with the a wrong setting in the software application you are using to record sound. The possible problems can vary so widely that I cannot go into that, but if there is an option in your sound settings that says something like "more compatible", try that and test again.
Static in the background: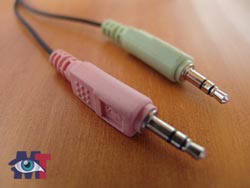 If your mic or headset has a mini jack, you will get static from all over the place. Firstly, because it doesn't fit tightly in the plughole, secondly because it is not earthed. As a result, it picks up static from your computer, your body, electrical equipment, etc…
One solution is to use a microphone or headset with USB connection.

USB connections do not deteriorate as easily as mini jack connections, thus reducing static considerably. If you are going to buy one, be prepared to spend at least $100. Don't buy cheap stuff, you will end up buying a better one afterward anyway.
Another source of static can be a spare bulb or neon light, especially when recording with a camcorder. Try use a regular bulb and see if it makes a difference.
Close by wireless phone sets and mobile phones can generate static too. Try to turn them off while recording and hear if it makes a difference.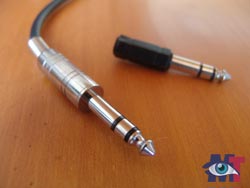 If all the above fails and you work on a desktop computer, you may want to consider buying a good quality sound card instead of the default one. If you spend about $250, you will notice a huge difference, especially if you can plug in a good quality mic with a Stereo jack or XLR connection.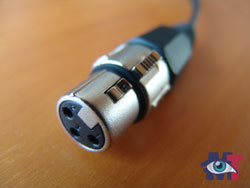 Especially XLR reduces static to an absolute minimum because it is earthed and it fits tightly in the plug hole thanks to a spring lock.
If all the above fails working with a laptop, there are USB recording devices with which you can record sound independently from your laptop.
Afterwards, you upload the audio via the usb port. Devices like that definitely reduce static when you buy the better ones around $200 – $450.
If you work with your camcorder, chances are that the build-in mic picks up sound from the mechanism inside the camcorder. This is not static, but you probably interpret it as such.  Either way, it is messing up your audio and I advice to use an external mic, because camcorder mics aren't that great to begin with, even the prosumer models have disappointing quality (see also the Sony FX1 camcorder review).  If your camcorder doesn't have an input for external mics, you may have to resort to using an external sound recording device, preferably with a USB port or containing a memory card.
Read also How to reduce environmental sound in audios.