Updated 12 July 2022.
You don't like your own voice on recordings, yet you cannot afford or have no time to hire a professional voice-over? Here is wonderful software that almost gets it right: NaturalReader. This software turns text into speech with voices that are way more sophisticated then any speech software of your Operating system. It is available for both Mac and PC.
Important notice: the business model of Natural Reader has changed. there are certain restrictions, therefore read the TOS carefully.
Have a look at this video and you will find out this is much better then any robot voice you ever heard:
Of course it is not perfect and you may have to adapt the spelling if the voice pronounces some words in a strange way. But I think you agree that this is an acceptable result and actually far better then what I do myself if I record video tutorials, for instance. 😉

The software works with NaturalVoice voices from several software houses, like at&t, Neospeech and Acapela. You can buy extra voices for a reasonable fee or select a package with two NaturalVoices included, like I did.  The voice I used in the video above was Lucy, a UK voice from Acapela.  For the fun of it, I called her Lucy Acapella.   There is also a Graham male voice in my package but he is not that good. He puts the wrong emphasis almost everywhere. He is only good for short sentences.
The PC version has US, UK, French, Spanish, German, Swedish, Italian and Arabic voices while Mac has US, UK, French and Spanish. The pronunciation per language is quite convincing. Here you can test the voices yourself: https://www.naturalreaders.com/widget.html.
For some reason, the Mac version is more expensive then the PC version, but it is still very affordable.
Typical problems
Wrong emphasis is the big give away of robot voices and although the NaturalVoice series do a good job, you do not escape from awkward sentences here and there. You can get rid of it by trying to formulate your sentences differently until is sounds natural. Another problem is that some words are cut off too soon. To avoid that, you need to be imaginative with spelling. It can also help to slow down speed here and there. You can vary the speed anywhere you like, thanks to the Conversation Control Panel:

It let's you change speaker, insert pauses and change the speed.  So, if you have a long text, you can vary voices and speed. Using dots helps as well.
There is also the Pronunciation panel that lets you save words with phonetic spelling or you can create shortcuts: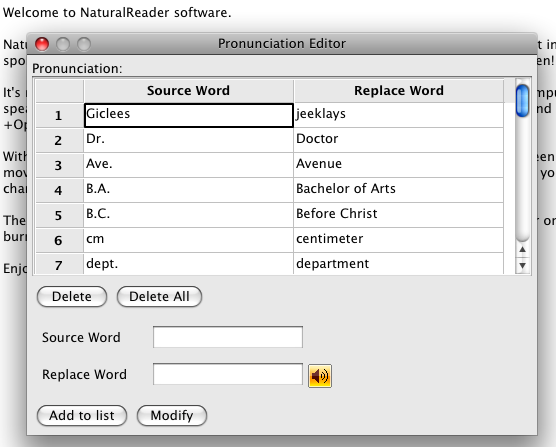 As you can see above, I changed the word Giclees into jeeklays to force the voice to pronounce it properly. Since the word is saved in the list, it will automatically use the custom pronunciation as soon as the software encounters the word Giclees.  That way you can correct a lot mistakes with uncommon words.
The Acapela group has a tutorial on TTS voices output: https://www.acapela-group.com/tts-output-optimization/ that you may find useful.
I rewrote quite lot of sentences, not only because emphasis was placed on the wrong words, also because it did not sound right. And that brings me to the next topic: NaturalReader as an aid to improve your writing.
NaturalReader helps proofreading
You would be surprised how different text and speech is.  Having a voice-over proofread what you have written helps to pinpoint awkward writing as you hear it being said. I'm not a native English speaker although I lived in the UK for a long time. So, my English is wobbly most of the time. Yet, when I run a text past NaturalReader, I hear immediately something is wrong. It is only a matter of changing the wording until it sounds right. That is an added bonus I did not count on when I bought this software.
Proofreading with a professional voice-over would be quite expensive. Imagine hiring a voice-over, you let him/her test a few sentences and then discover that it needs rewriting. Corrections have to be paid extra, so if you want to work with real voices, running a test upfront with NaturalReader helps you prepare your texts upfront and you can even do that at night.
Voice-overs that never sleep
Another advantage is that your voice-over can work day and night, rehearse a thousand times without getting tired or annoyed and you do not need to pay overtime. And most importantly, they are there whenever you need hem.  No booking time involved.
License fee versus real cost
I actually got my license fee out of it with the first video.  The video above is a bit more then 3 minutes, so count on it that you pay at least $200.00 for a real voice to cover a video like that. I bought the package of two voices for only $69.50 USD (Mac version). The links in this article are no affiliate links, by the way, I have no stake in this software.
Real voice-over versus software
True, a real voice-over professional will do it a lot better since humans are vastly superior in their capacity to express emotion, but if you compare this software with what it produced a few years ago, you will be stunned at the evolution.  Soon, you will no longer hear the difference and real voice-overs make mistakes too. I worked with quite a few of them in the past and a common problem is that they can sound like they are reading text instead of talking spontaneously.  NaturalVoice voices are not reading, they speak, be it in their own funny way, but they have a bright future ahead. So, investing in software like this will help us all in the long run.
How about Support?
Support for the software is poor.  I asked them if there was a way to influence how emphasis is placed on certain words but I never received a reply. However, the software is so easy to use that you do not need support, except for this unanswered question, that is.   I suspect they have no answer for this one currently.
In any case, I give NaturalReader software a well deserved 4 stars for excellence.  If their support was responsive, it would have gained 5 stars.