It is a while ago since I did a test with an HD video on S3 Amazon, so I thought this might be a good moment to go for it again. As we all know, HD video on video services like YouTube, Vimeo and others play reasonably well, although they inevitably stutter at some point. This is quite normal given the amount of data that needs to be processed per second.
My first test with S3 Amazon end 2009 wasn't that great, only a 800×600 video played without hick ups. Not that bad actually, but I wonder if it has improved in the meantime, so this video is 1280×720 with good quality sound, namely 44.1Mhz 16 bit stereo, 128Kbps.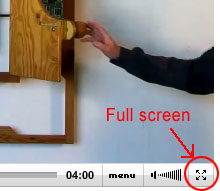 I would like to ask you to play this video full screen and see if it plays without a glitch or not. And it would be fantastic if you could comment in the box below, telling us how it went for you and in which country you reside, so that we have an idea how well this performs.
Before you try, best have not too many applications running in the background. Video requires quite a bit of computer resources to play properly.  This is why on older laptops you seldom have good performance with HD.
For me it, it played a lot better then expected, only one split second dip, that is all.  How about you?
One thing is important: observe the audio too, because there are static screen shots in the video and as long as the music keeps playing, it is not stuttering.
"Informania III" HD Video on CloudFront
The video is no longer available. I left this post in for history's sake.
Let's say, that on a scale of 1 to 10, having only 1 dip, means I can give a score of 9. How about you?
Thank you beforehand for participating in this experiment and a Happy New Year on top of it !!!
While you are being such a good sport, would you mind to retweet this page to give this experiment as much exposure as possible?  I would love to have tons of participants on this one.  Thank you again 😉