Wide screen on YouTube is going to change your workflow and it will encourage you to be even more creative.  From now on, the player of YouTube is set to 640 x 360 pixels, which is actually equal to the dimensions of a High Definition Video (HDV) or 16:9 aspect ratio. The previous size was 480×360, with an aspect ration of 4:3. In fact, HDV has a typical film format while Standard DV compares with the television format.  Yet,  television is changing format also, so 16:9 is going to be the new standard and that means that your old video camcorder with standard dv footage may become obsolete at some point.  Luckily, there is a way to postpone the need to buy a new camcorder and I will show you how.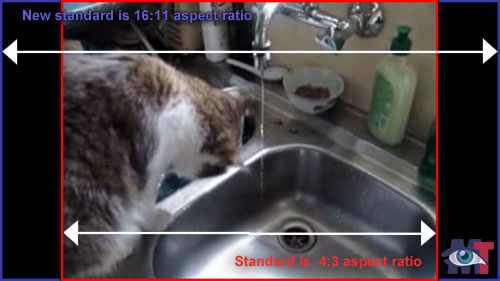 In any case, you do not need to throw your old videos away, they will play with a black column on the left and right side, as you can see in the sample above. In fact, they are still the same in height as they were before, namely 360 pixels.
HD is all the rage now
Yet, HD is all the rage now, so everybody will be forced into that format on YouTube. I'm not sure this is a good idea, actually. It would have been smarter if you had a choice of aspect ratio, because let's face it, it doesn't look too good with those black columns on either side, does it?  It looks a bit like: "Oh, look! They still work with an old camcorder !".
So far, Brightcove was a lot smarter in this respect;  whatever format you uploaded on that video network, Brightcove gave you the matching player.  No black borders or anything.  Alas, from the 17th of December onwards, the free ride on Brightcove is over.  See also: Brightcove: end of the free ride.
Spice up that "old" formatted video!
You can use some tricks to make your (relatively) older videos fit into the new format without resizing.  See this article on how to make your video bigger without resizing. The part about stretching is not accurate in this situation, but the rest is very useful as a model to work with.  You could, for instance place a banner of 160 pixels wide, either on the left or right of your video and the problem is solved.  See sample below: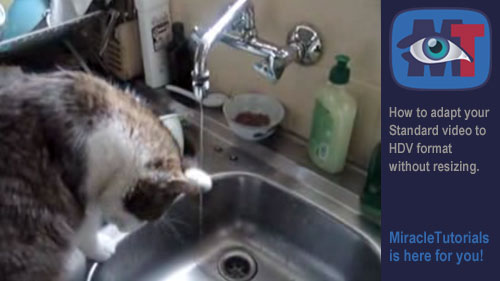 I often used HD footage in order to move around in post production and cover unesthetic parts of the video.  Now I have to be much more careful about framing the subject, so it is going to be a bit more challenging for all of us.  But it will be exciting as well because this format opens doors to new possibilities and it will encourage us to become more creative as we have a wider horizon now, literally 🙂