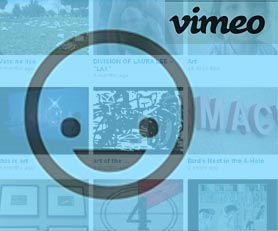 Vimeo is to my mind one of the best video networks around because it has a high concentration of creative content providers.  It is not like on YouTube where if you type "art video" in the search box, you get loads of music clips or " the art of making jam"- type videos.  On the contrary, on Vimeo you generally get what you ask and the quality is often better then on YouTube.  That said, there is good quality on YouTube as well, no doubt about that, but it is harder to find in between the thousands of junk videos.  As Vimeo is a much smaller network, good quality content gets a better chance and that is what I like about it. Like all networks, there are all sorts of subjects to be found.
I doubt Vimeo will remain small,  the first time I looked for art videos, I found about 2 pages, while 2 months later, it had risen to 39 pages, which is quite impressive.
What is the secret of Vimeo's success?
There are many reasons why Vimeo is successful in banning out the majority of junk video, and attracting serious video publishers, but I'm only going to mention a couple of them:  One of them is that they do quality checks on the accounts.  Secondly, you need to have a paid subscription if you want post more then 5OOMB per week or upload more then 1 HD video weekly. This measure seems to scare off a lot of freeloaders, especially the sort that uploads clones from TV shows and music clips (although you will find them here and there).
You can buy the Plus subscription which is only $60 a year (-minus 5 cents) and the compression quality is better then the free account.
The third reason is that even with the paid subscription, it is not allowed to upload commercial videos.
Vimeo is about sharing good content, they do not want to delude the network by accepting product- or service presentations.  Blake Withman from Vimeo says: "Many people try to use Vimeo as a free hosting service for videos that relate to their business, when, in fact, they should be paying for such a service. However, we are not interested in that content because 99% of the time, those people (and videos) do not contribute to the community. If you have a business and you need video hosting, there are plenty of sites out there that will meet your needs, but Vimeo is not one of them. "
I think he is right. Entrepreneurs have loads of options to chose from, including AudioAcrobat, PubClip, BitsOnTheRun, etc…and then there are the free networks: YouTube, VideoJug, MySpace, GoogleVideo, …
Playing the system, i.e.: using loopholes to push commercial messages is rather tricky business because one offending video is enough to close down the account forever.
Collaboration between members
Apart from groups, Vimeo also has a lively projects section where members collaborate in all sorts of concepts.  The groups also encourage collabaration between like minded souls.  Perhaps this is the reason why you find so many visual artists and creatives in this network.
Options and video compression
The video compression is very reasonable on Vimeo and with the paid subscription it is even better.
Supported video formats:
asf, asx, avi, divx, dv, dvx, m4v, mov, mp4, mpeg, mpg, qt, wmv, 3g2, 3gp, 3ivx and 3vx.
Vimeo recommends the following compression settings:
H.264 for the video codec (compression method). Choose AAC for the audio codec.
Frame rate: usually 29.97. Vimeo converts all HD videos only up to 25 frames per second in order to optimize playback performance.
Data rate: 1800 kbits/sec for standard definition 4:3 video , 2500 kbits/sec for widescreen DV, or 5000 kbits/sec for high definition. Making these numbers higher will increase both quality and size.
Size: 640×480 for standard definition 4:3 video, 872×480 for widescreen DV, or 1280×720 for high definition. It is also best to export 1920×1080 or 1440×1080 video as 1280×720 too.
Sound sample rate: 44.100 kHz
Audio quality: bit rate of 128 kbps.
I have nothing to add to those recommendations, they are just fine as they are. In fact, they are higher then I ever hoped from a video network

The interface
The interface is clean and easy to understand and there are video tutorials to help you on your way.
There are many options on the network.  You can join groups, create groups, setup your own channel, install widgets and, as I said, participate in projects with other members, etc …
Groups are mini networks where videographers can contribute videos regarding a specialized subject, while channels are similar to YouTube channels where you upload your own videos.
Projects are often used as a test bed for all sorts of ideas.
The video player: has more or less the same options as most other networks.
Help section
There are FAQs, video tutorials and the forum. Some help sections could be better: for instance, I ended up having to send an email to know how to get out of a group because it was not covered in the FAQ nor the forum.  But the response was quick and personal, not a standard answer, so you feel that there are real people behind this network. Apart from that, given the network is relatively new, the help section will improve in time.
Sponsoring
In a world where commerce wants to get its foot into anything, it is nice to find an Oasis free of commercials. Yet, sponsoring appears to be possible on the network, so if you are an entrepreneur and want to reach the Vimeo community, you can contact the founders.
Compared with the big boys, this network gets a 5/.5 star from me!