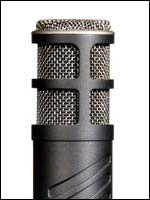 You have that wonderful and rather expensive external mic with XLR connection and discovered it doesn't work on your computer?  Yet, you bought an adapter for the XLR connection to fit into the sound board of your computer and it still doesn't work? Chances are that your mic needs a lot of phantom power.  Professional mics need that extra power and most computers, including Mac, are not configured to work with this sort of mics.  Most good quality sound cards do not provide phantom power either. Therefore, what you need is a little external mixer or audio interface.  Preferably a firewire mixer if you have firewire on your computer, otherwise USB will do a reasonable job as well.  Below I discuss a firewire mixer and an external USB audio interface.
Alesis Multimix 8 Firewire
Alesis has a very good entry level mixer that exists in 2 flavours: Firewire or USB 2.0.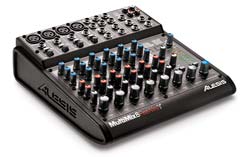 You can find this device for as low $165- $200 USD and it is very easy to operate.
It is plug and play, meaning that it installs very easily and if you follow the instructions of the non technical manual, it is set up in minutes.  It comes with Steinberger's Cubase LE for Mac/PC and it has 4 female XLR ports and lots of stereo jack ports, including a headphone port.  On your mic, you will need a male XLR jack to connect to the mixer.  You can use regular mics as well on this mixer too, as long as they have either a stereo jack or XLR connection.  Mini jack- or usb headsets don't fit. As the mixer has many options, it might take a bit of time getting used to all the options, but the manual is written with beginners in mind, so that helps a lot. The reviews about this device are mixed. Some adore it, others just hate it.
In my personal opinion, I think this device is OK, although the mixer tends to overheat after an hour or so.  This results in crackling noises in recorded audio.  It could have more sturdy buttons as well, but this is a very low priced mixer, so they have to economize on some points.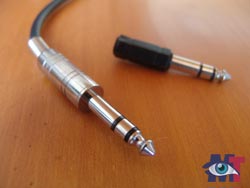 Stereo Jack(1/4″)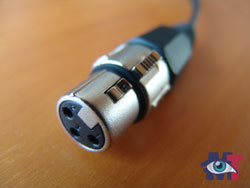 XLR jack(female version)
Here is the official feature page of the Alesis multimix 8 firewire.
The mixer is compact, so it won't take too much space on your desktop (it is like half the size of a laptop).  Yet, it weights heavy enough so that it doesn't slide easily from the desk to the floor by accident.  Just don't buy this device in order to use it with a cheap mic, it makes no sense if you do not work with good material.
The rule of the thumb is: your sound is only as good as the weakest link in the chain.
Edirol UA-25 USB Audio Interface from Roland
Currently replaced by Cakewalk UA-25EX High Quality 24-Bit/96 kHz USB Audio Interface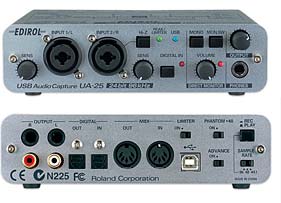 You can find this device for as low as $185-$200.  The reviews about this device are very good.  One minor point might be that the USB 1.1 connection can cause a delay while recording, thus you will need to have a bit of patience on some computers before the audio is transferred to the computer.  Most USB interfaces do not have phantom power for condenser microphones, but this one does. It has variety of input connections under which XLR, RCA Jacj, Stereo Jack(1/4″) and more. It comes with Cakewalk's Sonar LE, an audio application for Mac and PC. This device is much smaller then the Multimix8 Firewire as it is not a mixer.  Therefore it is easier to handle but it doesn't have the same options as a mixer.  If you want to record vocals/speech, this a great option.  Roland has build up a solid reputation as a provider for professional music equipment, so you can't go wrong with this device.
As with the Multimix8 Firewire, it makes no sense to work with a cheap mic. A good mic costs several hundred dollars.
Here is the official feature page on the Roland website
I haven't tested  the Edirol UA-25 USB Audio Interface myself, so I can't give you a personal review, but Roland does make good products, so I'm quite confident about it.  As a rule of the thumb, always read several reviews (the more the better) and never pay attention to emotional reviews because they are unbalanced.
What about a USB microphone?
USB mics may work on a Mac, they almost certainly will work on a PC, therefore if you have a good one and it gives good results, no need to change.
But if you are still looking around and plan to spend several hundred dollars on a good quality mic, you might want to use it on your camcorder as well instead of the built-in mic.  Since USB mics do not fit on most camcorders you may want to consider buying a mic with a XLR jack, preferably a condenser microphone, since they have superior quality.  Even if the camcorder only has a mini jack plugin to connect with an external mic, with an adaptor of only $7 USD you will have superior audio quality compared with the internal device.