By Rudolf Boogerman |

245 comments... Click to Contribute.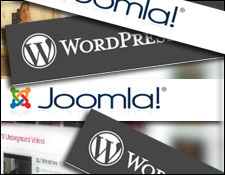 This is not a pro-contra review. In this article I try to give you some pointers to make it easy to chose between the two popular content management systems. The basic difference between WordPress and Joomla is that Joomla is a portal- or community type site while WordPress is a blog.  Both overlap each other in several areas and can be extended beyond their original purpose thanks to the use of plugins. You can find those plugins almost everywhere on the internet.  Both have a large user base with a lively community where tips and tricks are shared.  Both are free to use and many hosting providers have them as an option in their web tools section.  WP has a large community of volunteer developers, Joomla can count on many commercial add-ons by specialized professionals.
This topic is somewhat outside the scope of Miracle Tutorials, but the reason I thought it was important to publish is that it relates to the tutorials series Creating your own video channel by John, since we need to make a decision on a CMS system to work in that series.  So, here it is:
To Joomla or not to Joomla
If you want to create a community or a network with a membership area, newsroom, forums, articles, input from external authors etc… then Joomla is a good choice because it is made to be that way.  Creating a navigation structure is easy, once you understand how it works and it doesn't require knowledge of html. You can set articles to expire after a time, activate dates, authorname, breadcrumbs etc.. Thus, Joomla gives you a lot of power in your hands and that is noticeable in the admin section where there are so many options that you get dizzy the first time you go in. You really should get a good book on Joomla if you want to set it up fast. Otherwise you end up fiddling around and getting nowhere for days. A reasonably good starter is "Beginning Joomla" from Dan Rahmel. It guides you by the hand while customizing the site and setting up the naviagation structure.  There are other books, but I cannot recommend them since I didn't read them.
Adapting the look is simple if you are happy with changing some colors and the logo. Beyond that, you will find that Joomla has a complicated structure and even seasoned web developers have to go through a learning curve before they master the layout system, and that approach is different depending on the layout template you chose.
If you do not want to get involved in the gritty work of stylesheets, you can buy professional layout templates for a reasonable price (between $35-$50) from JoomlaShack, for instance.  Or you could ask a developer to do it for you, but make sure they have references of Joomla sites or you might end up paying their learning curve and that is what you want to avoid.
Disadvantages of Joomla
The disadvantage of Joomla, and the producers know that, is the way code is generated.  Joomla has to use tables to build its layout and that means that Joomla code is non web standard  and the god of search engines, Google, is not happy about non web standard code. Yet, it will list your site anyway.  There will be a time when this method is phased out and they work hard on it, but it cannot be done right now. No longer a true issue since Ryan commented and proved below that he created a real table-less template, so it can be done.  I just haven't found a truly table-less commercial template for sale yet. I bought several and they still have a couple of tables.  But I presume we will see real table-less templates popping up everywhere soon, and then I will be able to remove this issue as a disadvantage.  Thanks again for pointing this out, Ryan.
A remaining problem is that the core system is very complex which demands a lot of resources from the server.  If the database is not tweaked for better performance and you add a couple of fancy external plugins, chances are that the site breaks down starting from 50,000 visitors a day or more.
If you are born to be very popular on the net, it is important to keep this in mind, therefore best involve a webdeveloper with experience in high traffic sites to tweak the system.
In short:
Joomla's strenght is in complexity.  Deep level navigation, sections in sections, categories etc… It has fixed pages and posts, posts Great for community sites, you can create a regular site with it but I would regard that as overkill.

To WordPress or not to WordPress
WordPress is basically a very user friendly blog system but it can be used as a regular site which you can update without any knowledge of html (the same goes for Joomla). You can create pages and posts, and with plugins, you can add a lot of functionality included standard in Joomla, except that all code is web standard.  And because WordPress is web standard, Google really loves it.  So, from a marketing standpoint, WordPress is hard to resist.
The interface is easy to understand, you won't need a book for it, although buying a "WordPress for Dummies" – book will save you some time if you have no experience with blog management at all. Adapting the look requires some knowledge of CSS, the style sheet language. Like with Joomla, if you select a template close to what you want, adapting the colors, logo etc.. is not that complicated but if you do not want to get involved with CSS, and you would like to re-arrange navigation elements as well, you might consider hiring a web developer. Since WordPress has a logical structure, it is easy for a developer to change things around, place ad banners etc…Again, give preference to a specialized developer used to work with WordPress.
It is setup very quickly and you can be listed in Google within 2 days.  I haven't seen any other system doing that so far. A normal site takes up to 2 months to get listed in Google, so this is something to take into account.  Anybody can learn enough in 2 hours to create content with WordPress right away, including using categories and sub pages.
WordPress can handle tons of visitors.  It will not break down easily.
Disadvantages of WordPress:
For instance, adding or removing post dates, need to be changed in design mode and it requires knowledge of WP scripting. The navigational structure is determined by the layout template you chose. Changing that structure again requires knowledge of the WP scripting language and CSS.  With Joomla, you do not run into this problem because menus are controlled via the control panel and attributes like dates, author name etc, can be turned on and off per article or for the whole site in one go. In that sense, Joomla is much more a content management system.
Also, changing the order of categories or pages is rather cumbersome in WordPress.  It involves having to go into all of the categories and change the order by hand. The WP developers are working on it to fix it, but when is unpredictable.
In short:
WordPress is simple, you can see it as a blog or as a regular website.  It has fixed pages, posts and categories.
Through the use of plugins you can extend its functionality and let it grow as big and complicated as you want.  However, not every plugin is easy to understand, so it might be a good idea to have a specialized web developer in case of emergencies.
What do I need for my video channel?
You can add membership functionality in WordPress but Joomla will handle membership much better as it is really made for things like that.  So, let's say, while presuming you do not want to tinker with scripting:
if you want members to access your videos on a subscription basis and have members in various levels of permission (depending on their subscription level), Joomla is your best bet.
If you simply want to show your videos on your site, or you only have 1 type of members and you want things to be simple and clean, WordPress will do nicely.
If you want to show off different types on videos on your home pages from different sections, more or less like a magazine, again Joomla is better equipped for it.
If you want to create a video journal, WordPress makes life really easy for you.
If this little list doesn't do you any good, you can always ask me a question by writing in the comment box below.  I will answer as soon as humanly possible to give you some advice.
Don't panic!
The great thing is, that if you discover that you selected the wrong system in retrospect, you are not lost because it is always possible to adapt the system. Both systems are open source, which means they are adaptable in every direction.  Sometimes those changes will be costly, others peanuts.  It depends on what you need to add or adapt.  AND, there is a third way: Use them next to each other!

Have the best of both worlds if you want to.  Install one of the systems in a sub folder, match the layout more or less and there you have a super site with all the bells and whistles you can imagine.
Installation difficult?
Given the fact that these are powerful content managment systems, installation is a dream, but don't be fooled by this expression, if you do not know what a database is or what FTP means, you better rent web space with a provider that has the system of your preference in its package.  Dreamhost has both WP and Joomla available for you with the press of a button. As a free member of Miracle Tutorials, you will get a special extra discount of $48 per year in the form of a unique IP address.  In order to get this extra, signup with Miracle Tutorials in order to get the promotion code for Dreamhost.
I'm personally so happy with Dreamhost that I have become an affilate and I can assure you that I only do that with companies I have good experiences with.  Read more on Dreamhost in Creating your own video channel – Part 1

Topics: Software reviews | Site search | Write comment
This article has 245 comments.

Related Articles:
245 Comments »
If you have any questions or suggestions, you can leave a comment on this article below. Comments are subject to an approval process before they are published. By posting a comment, you agree with
the terms of use
.
245 Responses to "WordPress vs Joomla – Review"
Comments